Lighting Terminology
Here is a dive into the Lighting Industry specific language and terms along with those signs and symbols from our catalog.
Signs & Symbols

Underwriters Laboratories Inc. – Listed mark for the USA and Canada

Intertek Testing Services – Listed mark for the USA and Canada

DesignLights Consortium – Quality Product List Approved

UL EPH Mark, P6, P14, P16 – Classification mark for food applications
Necessary hold diameter for recessed spotlight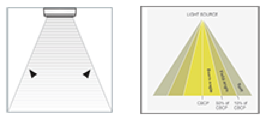 Beam angle. 50% CBCP (Center Beam Candlepower)

Minimum clearance to combustible materials in front of a spotlight

No minimum clearance required
Terms
IESNA approved standard for measuring Lumen Maintenance of LED light sources (chips, array or modules) not complete systems.
IESNA approved method for the electrical and photometric measurements of Solid State Lighting. It measures an LED luminaire or integral lamp as a whole system according to a standard process using specified equipment.
ESNA approved method for taking LM-80 data and making useful LED lifetime projections. The standards apply to lifetime projection of LED package, array or module alone. The results can then be used to interpolate the lifetime of an LED source within a system (luminaire or integrated lamp) using the in-situ LED source case temperature.
An industry standard to express the useful lifespan of an LED. It indicates the number of hours before light output drops to 70% of initial output.
Light sources are measured in their ability to accurately render all colors of their spectrum, in a scale is called to the Color Rendering Index (CRI). Incandescent radiators have a CRI of 100 (the max.)
Color Quality Scale is a quantitative measure of the ability of a light source to reproduce colors of illuminated objects. Developed by researchers at NIST, the measure is a possible answer to the criticism of the widely used color rendering index.
Correlated Color Temperature has been described most simply as a method of describing the color characteristics of light, usually either warm (yellowish) or cool (bluish), and measuring it in degrees of Kelvin (°K).
Solid-state lighting (SSL) refers to a type of lighting that uses semiconductor light-emitting diodes (LEDs), organic light-emitting diodes (OLED), or polymer light-emitting diodes (PLED) as sources of illumination rather than electrical filaments, plasma (used in arc lamps such as fluorescent lamps), or gas.
In 1986 the Illuminating Engineering Society of North America (IESNA) created the standard LM-63-86, "IES Recommended Standard File Format for Electronic Transfer of Photometric Data." This has been updated twice, in 1995 and 2002.
Color Rendering Value corresponding to the ability to reflect "Natural RED" R1-R8 = Pastel colors used to calculate CRI. R9-R14 = fully saturated colors used in the CQS method
Specifications for the Chromaticity of Solid State Lighting Products – LED binning Standards
Design Lights Consortium - The DesignLights Consortium® (DLC) is a project of Northeast Energy Efficiency Partnerships (NEEP) a regional non-profit founded in 1996 whose mission is to serve the Northeast and Mid-Atlantic to accelerate energy efficiency in the building sector through public policy, program strategies and education. The DLC promotes quality, performance and energy efficient commercial sector lighting solutions through collaboration among its federal, regional, state, utility, and energy efficiency program members; luminaire manufacturers; lighting designers and other industry stakeholders throughout the U.S. and Canada.
Energy Star CCT limits for Indoor SSL
2700K – 3500K
DOE CCT Limits for refrigerated display case
2700K – 5000K